Northern College offers eight conference and meeting spaces for hire. The largest of these seats 90 in a theatre-style layout. All rooms can be configured to suit your requirements, ensuring a successful and inspiring event.
The Home Farm Conference Centre
After capturing the nation's imagination on the BBC TV series 'Restoration', this is one of the largest restoration projects in the country.
Now thanks to the Wentworth Castle Trust, who restored the buildings and landscape, we are able to offer a superb conference centre to businesses and organisations, along with residential, single en-suite accommodation.
The Arched Barn
Built in the 18th Century, The Arched Barn provides meeting facilities for up to 53 people on the ground floor and residential accommodation on the first floor, offering five single ensuite rooms with shared kitchen.
The Long Barn
Built in the 18th Century, this room provides a large space for meetings, workshops and a breakout room.
St James' Hall
Built in the 19th Century, St James' Hall has been restored with the original exterior and within has an auditorium capable of seating 60 delegates theatre style.
The Dairy
Built in the 18th Century, The Dairy has been restored for use as a meeting room or as a break-out room. It has a large wooden floor with a small carpeted area.
The Main House
Wentworth Castle dates back to the 18th Century and many of the conference and meeting spaces enjoy spectacular views over historical gardens and parkland.
The Queen Anne Suite
Of early Georgian design, The Queen Anne Suite offers a superb ambience for use as training workshops.
The Dining Room
Within the Main House, The Dining Room has impressive ceilings, paintings and gilded columns and can seat up to 100 people in banquet style.
The Blue Room
A prestigious function suite finely decorated in blue and gold, has its own private bar and dance floor, making it an ideal venue for all kinds of receptions and functions.
Layout options
Classroom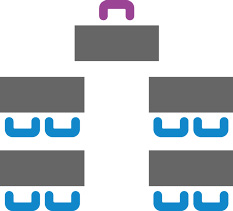 Board room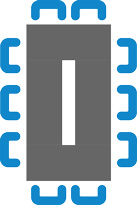 U-shape

Theatre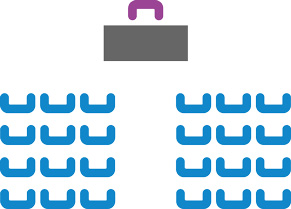 Cabaret