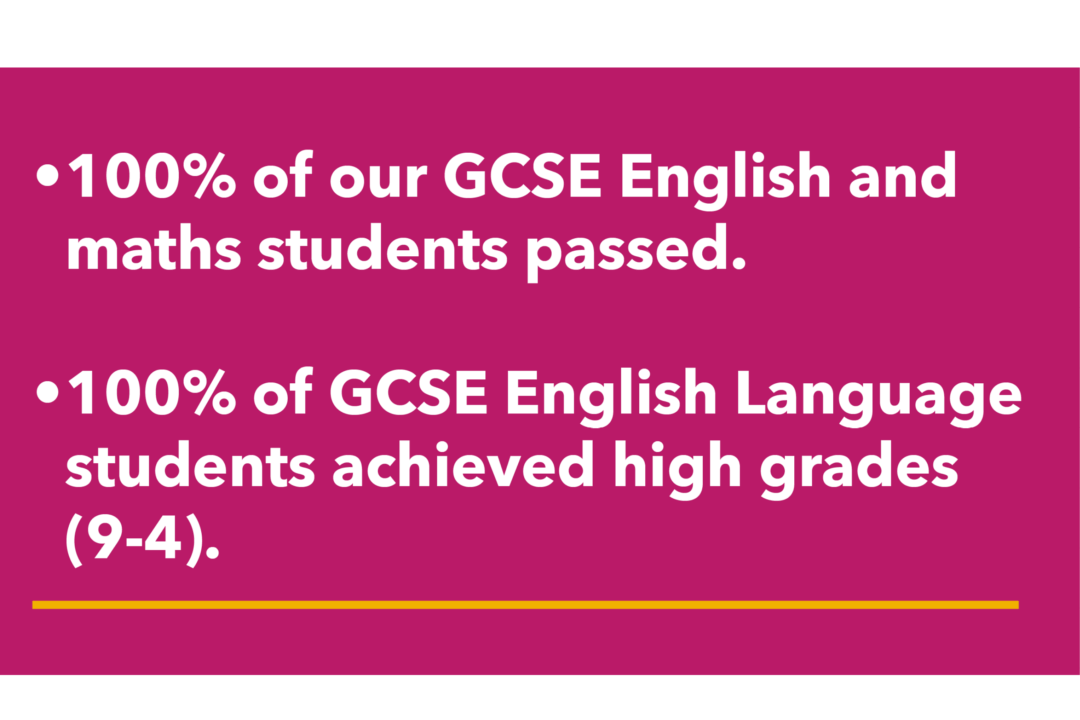 GCSE Success!
August 25, 2022
We are pleased to announce excellent results for our GCSE English and maths students this year. The first group to sit exams since 2019.
As we all know the last few years has seen unprecedented disruption to students across the board. This disruption was felt by our adult students who had many other things to focus on.
However, despite the uncertainty the class of 2022 have achieved superb results in their exams.
100% of our GCSE English and maths students have passed as well as 100% of English Language students achieving high grades (9-4).
We are incredibly proud of the commitment and resilience shown by all our students to have completed and achieved such excellent results.

"This year's GCSE students have done brilliantly in the first exams in three years. Adult students have so many commitments outside their college courses, but our students have achieved excellent results. A GCSE in maths or English is a key which makes it possible for them to progress onto further opportunities, such as degrees in teaching and mental health nursing. Our students made immense progress in such a short period of time, some of them studying for GCSE English in only 16 weeks, and we are incredibly proud of every single one of them." Ruth North, Lead Tutor for English and Maths

Did you know?
You could be eligible to study GCSE English and maths for free at Northern College. If you are thinking about taking your GCSEs then look at our course pages and contact us for more information.
www.northern.ac.uk/course-department/english-maths/
advice@northern.ac.uk
Why choose Northern College?
---
Working together to create a place for everyone.
---