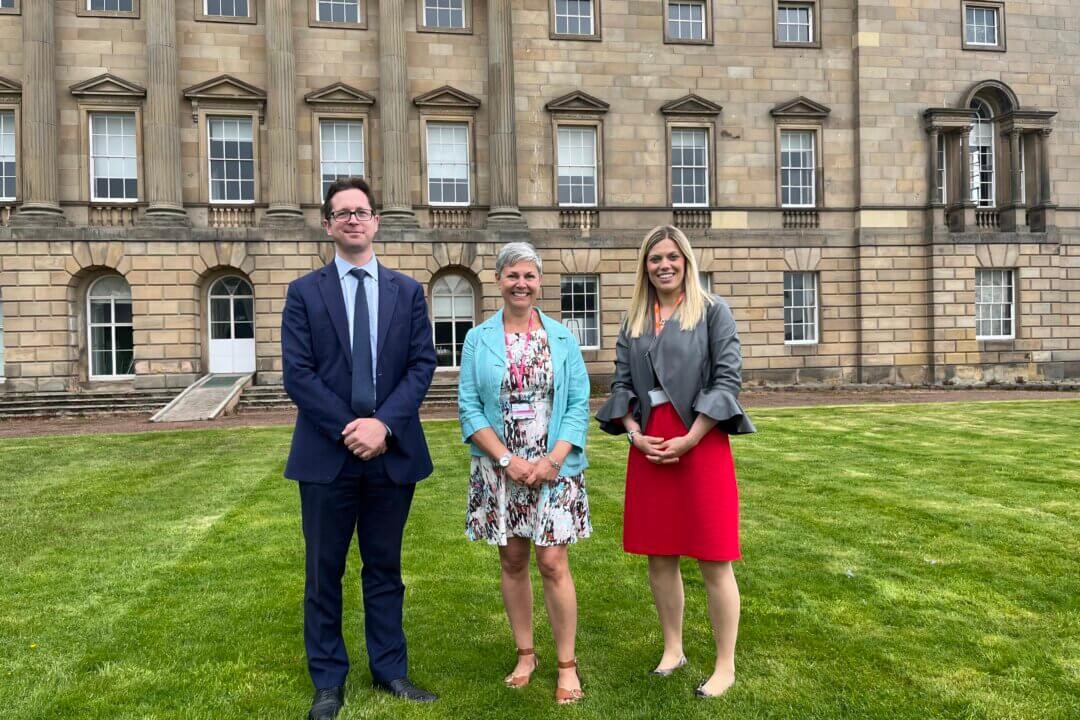 Minister's visit to Northern College
May 25, 2022
The Minister for Apprenticeships and Skills, Alex Burghart, visited Northern College at Wentworth Castle on Thursday 19 May 2022 to meet with Principal, Yultan Mellor, and Miriam Cates, the MP for Penistone and Stocksbridge. The Minister was given a tour of the impressive campus and spoke to students about their experiences of studying there.
The visit was arranged by Miriam Cates following recent success in helping to secure the future of the college, working together with the Principal and the Government to guarantee its independence and secure funding for its adult skills programmes.
 
Northern College is one of just two providers of residential adult education in the country, offering a variety of courses to students aged 19 and over. It focuses on providing both educational and pastoral services to its students, many of whom have struggled to engage with education in the past but thrive in this supportive environment.
 
The College is now keen to take on new students and help adults gain new skills and qualifications. It offers a variety of both residential and non-residential courses at different levels to ensure that education is available to everyone, regardless of their current situation.
 
Miriam Cates MP said: "It was moving to talk to students who told us how studying at Northern College is having a transformative effect on their lives, and it was great to hear how many go on to find jobs and further training that they once thought were out of reach. The beautiful setting and supportive atmosphere of Northern College is a key part of its success, alongside the inspirational leadership team led by Principal Yultan Mellor.
 
"The Government has ambitious plans for adult education and Northern College is in a brilliant position to deliver skills and training both locally and nationally. This will bring new opportunities to people across South Yorkshire and help to level up our economy and our communities."
 
Yultan Mellor, Principal and Chief Executive at Northern College, says:
 
"I was delighted to welcome Alex Burghart, Minister for Apprenticeships & Skills and our local MP Miriam Cates to our wonderful College.  As ever, our students did us proud discussing with the Minister how studying at Northern College has positively impacted on their future work and life opportunities.  I am sure that he took away the importance of this offer in supporting adults to develop the skills that will help them progress to further education and better jobs."
Why choose Northern College?
---
Working together to create a place for everyone.
---